Twisted Creek Quarter Horses, Franklin, NC
Quarter Horses for Sale
Twisted Creek Quarter Horses offers the following horses for sale. For additional information please feel free to contact us by calling (828) 369-1918 or (828) 342-9195 or email us at info@twistedcreekquarterhorses.com.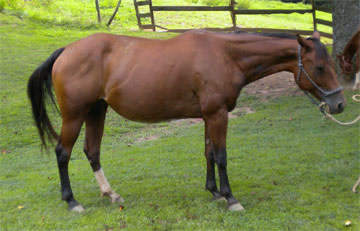 Docs Fancy Playmate "Joy" Born 3/30/2000
Joy is out of cutting stock top and bottom with her sire and grandsire being some of the top cutting horses in the nation. Starlights Joy and Grays Starlight. Joy is broke to ride, very easy to handle, loads, bathes, and shoes. She is open for the 2011 season. She can be purchased for $2,800 with a breeding to our AQHA stallion "Gunner" if desired.
Price: $1,500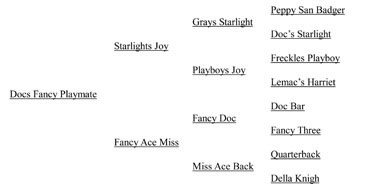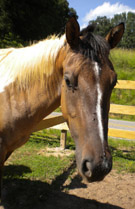 TCS Midnite Storm Born 6/ 01/07 - Mare
Regretfully we are selling our 3 year old buckskin dun paint mare. We have too many young ones to ride and not enough time. You don't often get color & markings very often like this. She has a very strong dun factor and symmetrical white markings. She definitely will turn heads where ever you ride whether it be in the show ring or on the trail. She was bred and raised here at Twisted Creek. She has 60 days professional training by our trainer, Tinker Moffitt of Westminster, SC. She trail rides, crosses water, logs, ties out at camp site, etc. She has a great, friendly personality to go with her beautiful markings. (more photos below)

Don't miss out on this once in a lifetime mare! Price $2,800
TCS Lost My Sock "Lil" Born 5/13/2009 - Mare
Lil out of our Starlights Joy mare and a Reminic bred stud. She is a sweet, friendly baby who likes lots of attention. With her bloodlines, she should make a great cutting or roping horse. Her sire has earned AQHA points in roping and cow horse classes. She's got it all, breeding, athleticism and chrome!
Price $1,000

---